By using latest techniques as 3D BIM, we are able to create intelligent and integrated (3D BIM) drawings for you. From our BIM models we can extract all types of structural and architectural drawings, quantity take-offs (QTO) and clash-reports. These can be extracted in different stages and from different detail levels within your project. Our team exists of professionals that have years of experience in applying BIM.
3D BIM
A BIM model (Building Information Modeling) acts as an information carrier for all relevant information from all possible technical disciplines involved in the AEC (Architectural, Engineering and Construction) process. Fundamentally BIM represents a digital, intelligent (3D) model which can generate several products, such as drawings, 4D planning or BOQ's (bills of quantities). If applied correctly BIM can help to eliminate construction errors at an early stage.
The 2D information supplied by the various parties involved (like clients, municipalities, architects, structural engineers, HVAC consultants, organizers, etc.) will be integrated, translated (if needed), linked and compared to the other technical components in the intelligent 3D model. This method provides a clear insight into the building issues in any desired stage. It creates the possibility to locate differences in information and clashes, and thus enabling feedback and processing in order to achieve an optimum in the construction process and final product.
---
Products and Services
---
3D BIM Model
3D model containing the elements of the AEC disciplines. Delivery as IFC format for exchange with other packages. Level of detail varies from Preliminary Design (100) to as-built (500). Our BIM services:
Architectural
Structural
HVAC
---
2D Drawings
Drawings generated from the 3D model or created from supplied information, which can be used in different stages. We can deliver drawings for:
design, tender and building application,
manufacturing and construction (shop drawings)
clients and (rental) prospects, as-built drawings
presentations or facility management
3D Intelligence
3D Information containing intelligent attributes which enables us to generate different outputs. We can generate lists containing:
Bill of Quantities;
Spatial and area lists;
Element attributes (quality, specification, contractor, material, load, etc).
---
3D Design Integration
By combining all 2D/3D information of different disciplines involved into one integrated model and by checking on the required rules/regulations, we can perform:
design and technical integration check;
clash checks – architectural / structural / HVAC.
risk assessments – highlighting possible construction errors and providing possible solutions
---
3D Design and coordination
We can coordinate the 3D BIM model and the design project by supporting and guiding the different parties involved. In some projects different disciplines create their own model which in turn needs to be integrated into one congregated model. We provide:
BIM protocols and collaboration agreements
Guidance and supervision
Training on the job
---
4D, 5D, 6D – Process Management
Different dimensions can be added to the 3D model in order to effectively and efficiently guide the project, the client, the users or the construction phase. These dimensions are created by adding specific intelligent information. We can provide:
4D model – Planning | linking the model components to a specific time frame, we can visualise construction planning,  site layout and occupancy in time, and more time related schedules.
5D model – Costs | By adding different cost factors to the model components (manufacturing, delivery, costs of goods, etc) a specific cost overview can be generated.
6D model – Lifecycle and sustainability factor | Information that supports and guides departments like facility management and operation with aspects like maintenance, energy use, etc
---
Visualisation
Besides a technical model, we can also add information to create a presentation model. We can generate:
artist impressions;
renders;
movies.
---
For inquiry please contact Jurgen Veerbeek, head of BIM
Via phone +31 (0) 6 287 335 80 or email: jveerbeek@bartelsvedder.nl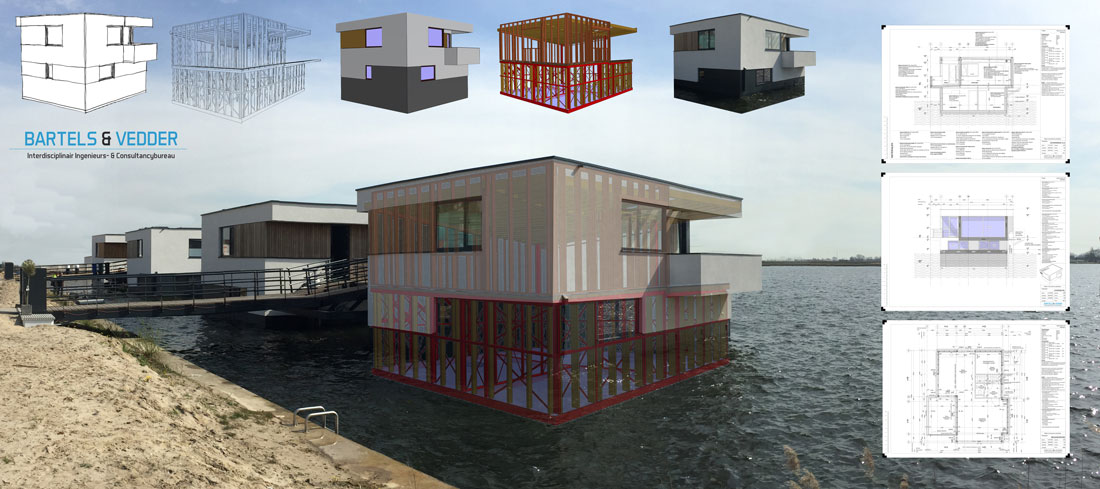 Would you like to receive more information about our work?
Phone Numbers
Jelle Vedder:
+31 (0) 6 422 398 53
ADDRESS
Metaalweg 12c
3751 LS  Bunschoten-Spakenburg